Aesop Westmount, Montréal Québec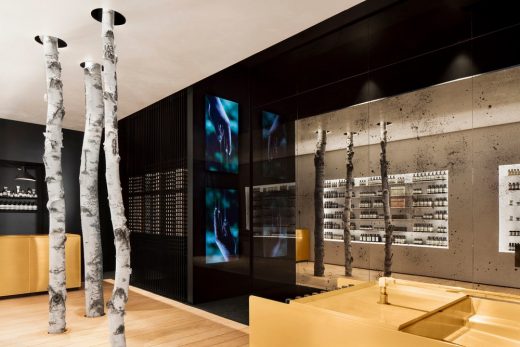 Aesop Westmount, Montréal Interior Architecture, Canadian Commercial, Building Images
Aesop Westmount in Montréal, Québec
4 Apr 2021
Aesop Westmount
Architects: Alain Carle Architecte Inc.
Location: Montreal, QC, Canada

Aesop applies a singular sales philosophy. Specializing in body care products, it develops a variety of sophisticated space concepts combining simplicity and refinement, with the collaboration of each city?s architects that adds a specific local narrative to the venues. Working on a corporate identity by means of space implies a certain degree of abstraction.

A figurative narrative in architecture always leads somehow to folkloric citation, leaving very little space for freedom of interpretation and contemplation. We believe architecture should be interpretative, not dictating. For Aesop Westmount, a first venture for the enterprise in a specific North American cultural fabric, we proposed to look back at key components of the identity of its community: its link with water. By this mean, our design proposal seeks to establish a metaphorical bound between cultural identity, space and time.
As a material, water is interesting in its capability to become a tool for contemplation.

In the Northern countries like ours, it is also a changing material: it goes from liquid to solid, from a deep blue during summer to a dark black during winter. This characteristic was kept the main characteristic of the Aesop store. By using a black glass on a half of the space, w...
_MURLDELAFUENTE
http://www.e-architect.co.uk/
--------------------------------
South Melbourne Primary School will feature no formal classrooms says architect Ann Lau