Borges 3647 Building, Rio de Janeiro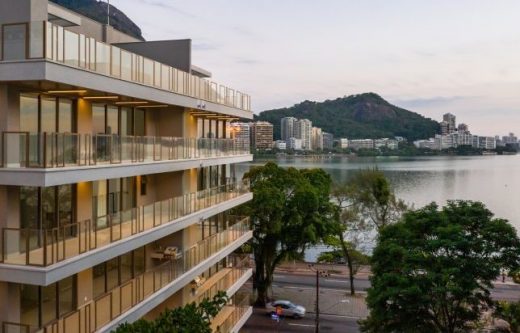 Borges 3647 Building, Rio de Janeiro Apartments, Argentina Real Estate, Architecture Images
Borges 3647 Building in Rio de Janeiro
5 Apr 2021
Borges 3647 Building
Design: Cité Arquitetura
Location: Rio de Janeiro, Brazil

The Borges 3647 Building, an architectural project developed by Cité Arquitetura, adopted as premises the valorization of the views of Rio de Janeiro (Brazil) – from some points it´s possible to see ?Christ the Redeemer? – and the integration with the remarkable landscape of Rodrigo de Freitas Lagoon, one of the most loved places for contemplation and exercise in the city.

The building mimics the landscape, and when you get close, the details are rich. The design fits, seen from the inside, with the delicacy of this project, which integrates powerfully from the details. As it has a lot of glass, it makes the lagoon very close to the 'living'.
In search of quality views, besides the solution of implantation in the exact direction of ?Christ the Redeemer?, the project sought large spans, in visual approximation with the surrounding landscape, also composed by generous canopies of the street trees, elements used to integrate in an elegant way with the surroundings. Still in relation to the dialogue with the outside, the building seeks through its details to interpret the Lagoon Skyline, taking advantage of the full and empty spaces to frame views, as large pictures of everyday life. The use of discreet materials stands out: besides g...
_MURLDELAFUENTE
http://www.e-architect.co.uk/
--------------------------------
Rolls-Royce unveils its first concept car design