Casa Prime, Riviera de São Lourenço beach, SP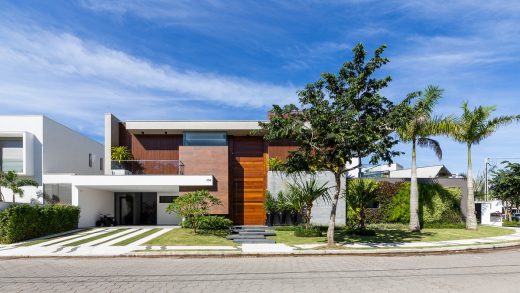 Casa Prime Riviera de São Lourenço beach, São Paulo luxury property, Brazilian architecture, SP real estate
Casa Prime, Riviera de São Lourenço beach, São Paulo
13 September 2021
Design: Raiz Arquitetura, Architects
Location: Riviera de São Lourenço beach, Bertioga, São Paulo, Brasil, South America
Raiz Arquitetura Beach House Project with a lot of integration of environments for social use and leisure

Photos by Leonardo Giantomasi
Casa Prime, Praia de São Lourenco
São Paulo, 2021 ? Casa Prime, located on Riviera de São Lourenço beach, on the coast of São Paulo, was implemented in a rectangular shape with the largest face parallel to the street. The project is signed by Raiz Arquitetura, of architects and associates Alexandre Ferraz and Elias Souza, who have in their portfolio several high-end houses on the São Paulo coast.
Through the "Rectangular Shape" of the project, it was possible to obtain a free plan without pillars in areas designed for social use and to implant the pool integrated into the house block, simulating the image of an immense mirror of water in the living and balcony environments, thus obtaining a larger leisure área turned to the face where the greatest predominance of green areas is located.

The layout on the lower floor of the residence made it possible to integrate the kitchen, dining room, living room and balcony, all connected with the full opening of the frames. A Functionality Permeability where users can see themselves from anywh...
_MURLDELAFUENTE
http://www.e-architect.co.uk/
--------------------------------
TRAMPA DE GRASAS. Vocabulario arquitectónico.