Cascais School Building, Lisbon Region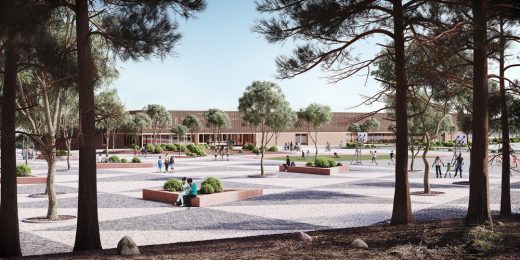 Cascais School Development, Lisbon Region, Portugal, Portuguese Interior Architecture Images
Cascais School Building in the Lisbon Region
3 May 2021
Cascais School Building
Design: hey5
Location: Cascais, Lisbon Region, Portugal

The ambition of the Cascais School Building project is not only to create a smart receptacle for learning, but also to blend in the urban fabric in a relevant way. All the elements of the project are present somewhere in the town: The corridor surrounding all functions is designed like the old city streets, the indoor and outdoor paved floors remind the Portuguese praça, the overall volumetry has the qualities of a real city block. Simplicity, flexibility and functionality.

In response to the competition brief, the goal was to create both a flexible and rational organizational system and simultaneously an innovative architectural identity that reinforces the memory of this central place with a strong urban presence.
The benefits of building the whole program in one phase instead of two were immediately obvious. The key concept for achieving this was to ?flip the coin?, and play a solid-void game. The solid (existing school) will turn into void (multifunctional open space) and the void (existing car park) will turn into solid (the new school).

The project lies in four main pillars: the school block, the public school yard, the pinhal, and the infrastructure spine along Rua Guilherme Salgado.

The school is a strategic element in building a cultur...
_MURLDELAFUENTE
http://www.e-architect.co.uk/
--------------------------------
Peter Pichler unveils figure-of-eight-shaped housing complex with rooftop running track