City Apartment, Detroit, Michigan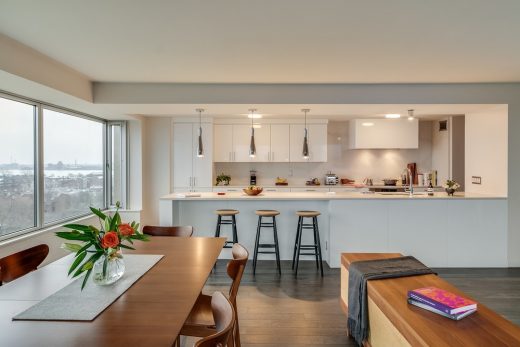 City Apartment, Detroit Facade, Michigan Building, American Interior Architecture Images
City Apartment in Detroit, Michigan
May 2, 2021
City Apartment, Detroit
Design: M1DTW Architects
Location: Detroit, Michigan, USA

The City Apartment is a comprehensive interior renovation of a 1600 square foot apartment located on the 8th floor of the Gunnar Birkerts designed 1300 Building, in Lafayette Park, Detroit. The unit, originally a 4 bedroom that had been converted into a 3 bedroom apartment, was otherwise unaltered from its original configuration, fixtures, and

finishes from the mid-60s.

The perimeter was left intact, and renovations focused on the core, including an expansion of the kitchen, and a reconfiguration of the master suite. With sweeping views extending from Belle Isle to the east, across Lafayette Park, and to Downtown to the northwest, the material palette is deliberately restrained, in contrast to the changing and dynamic landscape outside.
Oak hardwood floors throughout provide warmth and continuity, while other finishes act as touchpoints within the kitchen and baths.

A cellular kitchen and adjacent dining area were opened and combined in order to create a large area for cooking and entertaining, with millwork serving to conceal services or chase spaces. Minor refinements were made to walls to provide a more expansive and versatile master bath with adjacent closet wall that serves as a headboard for the master bed.

Simultaneously private and removed ...
_MURLDELAFUENTE
http://www.e-architect.co.uk/
--------------------------------
Design project of the year 2020: Catch, The HIV Detector by Hans Ramzan | Dezeen Awards