Colosseum Rome Building New Floor: Colisseo Roma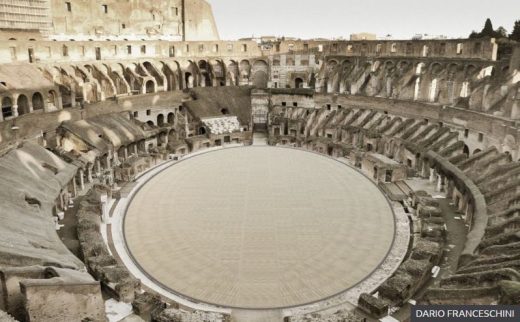 Colisseum Rome New Floor, Historic Italian Building, Campitelli Italia, Architecture Photos
Roman Colisseum: New Floor
New retractable wooden floor for Historic Roman building in Italy, southern Europe
post updated 3 May 2021
Rome Colosseum Floor Plan
The Italian government has approved a plan to provide Rome's ancient Colosseum with a new floor, giving visitors the chance to stand where gladiators once fought. Culture Minister Dario Franceschini announced the project to build the wooden, retractable floor on Sunday, reports the BBC.

image courtesy Dario Franceschini
Italian engineering firm Milan Ingegneria won the 18.5m euro (Ł16.1m; $22.2m) contract to design the floor. The new floor is expected to be finished by 2023.

photograph Š Adrian Welch At present, the 2,000-year-old monument has no floor. It was removed by archaeologists in the 19th Century, exposing the underground network of tunnels where gladiators and animals were held before the Roman blood sports began.

photos Š Adrian Welch
Cultural events could be held in the Colosseum once the floor had been restored to its former glory. The competition-winning design involves hundreds of wooden slats that can be rotated to allow natural light and air into the underground chambers.
The new 3,000-sqm (32,300-sqft) floor is designed to be entirely reversible in future, leaving the ancient structure intact.

Colosseum, Campitelli
Colisseo Roma architettura:
The Colosseum could hold, it is estimated, between 50,...
_MURLDELAFUENTE
http://www.e-architect.co.uk/
--------------------------------
ABATIMIENTO