Company Gallery 145 Elizabeth Street, NYC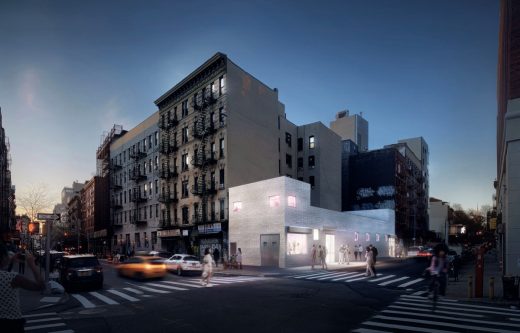 Company Gallery New York City, 145 Elizabeth Street, Capricious Manhattan Design, NYC Architecture Images
Company Gallery 145 Elizabeth Street New York City
June 10, 2021
Company Gallery, Manhattan
Architects: BoND (Bureau of Noam & Daniel)
Location: corner of Elizabeth and Broome, New York City, NY, USA
Company Gallery Announces Fall Expansion with Move to New Home New York City

image courtesy of Company Gallery and BoND
New York, NY?Company Gallery is pleased to announce their upcoming expansion and move to their new home at 145 Elizabeth Street in September 2021. Company will celebrate the opening of the space with an exhibition of works by the late seminal artist Barbara Hammer, curated by Tiona Nekkia McClodden. Marking a significant milestone for the gallery, the move is a direct response to the growth of its artists and the development of their practices. Owner and Founder Sophie Mörner established Company Gallery in 2015 as a natural extension of her publishing platform Capricious. At the crossroads of The Bowery, SoHo, and the Lower East Side, Company?s and Capricious new home will be representative of the way in which the gallery functions and identifies as an organization.
BoND (Bureau of Noam & Daniel), NY, USA:

Designed by BoND (Bureau of Noam & Daniel), the 4,000 square foot warehouse, at the corner of Elizabeth and Broome, will encompass three levels of multi-use presentation space. The design will keep the original building exterior intact...
_MURLDELAFUENTE
http://www.e-architect.co.uk/
--------------------------------
Asif Khan's Forests installation for MINI aimed to challenge "static and inflexible" architecture