Cottage Sandwich, Auckland NZ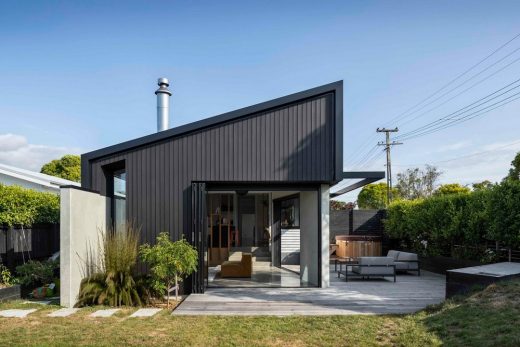 Cottage Sandwich, New Zealand Residence, Contemporary Auckland Home, NZ Real Estate Photos, North Island Building, Architecture
Cottage Sandwich in Auckland
12 Sep 2021
Architects: Matter
Location: Auckland, North Island, New Zealand

Cottage Sandwich
The Cottage Sandwich did have a character that the clients wished to keep and enhance, while doing so reconnecting with the large flat corner site. Cars were a low priority, bikes being the preferred transportation method.

The site was full of old structures such as sheds, retaining walls, and badly placed oak trees. There were also potential drainage and flooding items to address.

The cottage was floating in the middle of the site with little connection to the land or the streetscape. Architects Matter proposed to sew in the additions to each end of the structure, extruding the internal spaces into the landscape and beyond.
The internal areas of the cottage were massaged and opened up, creating a full length connection hallway between the two new additions. Timber wall framing was removed, reconditioned, and reused as benchtops, exposed timber slats, and battening. Existing external joinery was removed and replaced with new, matching the original cottage?s front door patterning.

We celebrated the existing character of the cottage by contrasting the form, scale, and materiality of the proposed additions. To ensure a sympathetic contrast we kept some familiar elements in a reinterpreted form including the angles of the ro...
_MURLDELAFUENTE
http://www.e-architect.co.uk/
--------------------------------
The Small House by Bonaventura Visconti di Modrone