David Hockney at Piccadilly Circus, London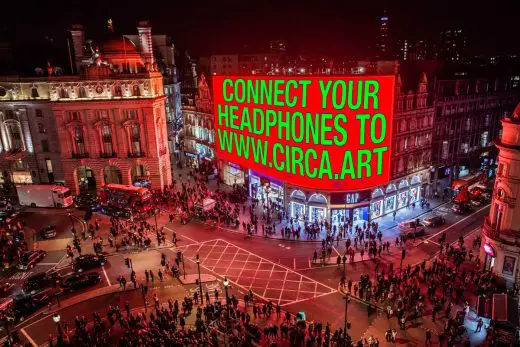 Piccadilly Circus David Hockney, London Lights Art, UK City Screen News, Design Pictures, Building
David Hockney at Piccadilly Circus
1 May 2021
David Hockney Digital Sunrise at Piccadilly Circus, London
David Hockney Creates Digital Sunrise For London?s Iconic Piccadilly Lights And Screens Around The World
LONDON ? NEW YORK ? LOS ANGELES ? SEOUL – TOKYO
A new video work by David Hockney, one of the world?s most celebrated living artists, will be unveiled on London?s Piccadilly Lights screen on 1 May at 20:21 BST.

image courtesy CIRCA
The screening is part of a global collaboration, curated by Josef O?Connor, Founder and Artistic Director of CIRCA, an innovative new platform showcasing digital art in the public space. It is presented in partnership with Times Square Arts? Midnight Moment program in New York, synchronised over 70 electronic billboards, COEX K-POP Square, the largest LED screen in South Korea, and Yunika Vision in Japan. David Hockney, said: ?What does the world look like" We have to take time to see its beauty. That's what I hope my work will encourage people to do when they see it on the large screens.?

image courtesy CIRCA
The new video, titled Remember you cannot look at the sun or death for very long, will be shown every evening throughout the month of May at the following times and locations:

London: Piccadilly Lights, at 20:21BST
New York: Times Square, at 23:57EST
Los Angeles: Pendry West Hollywood, at 20:21PST
Seoul: Coex K-POP ...
_MURLDELAFUENTE
http://www.e-architect.co.uk/
--------------------------------
John Wardle Architects restores and extends forgotten Tasmanian cottage