deNormanville Residence, Rosemont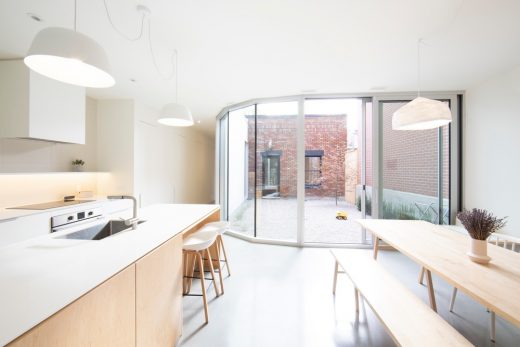 deNormanville Residence, Rosemont House, Montréal Real Estate, Quebec Home, Canadian Property
deNormanville Residence in Rosemont
24 Feb 2021
deNormanville Residence
Design: TBA / Thomas Balaban Architecte
Location: Rosemont, Montréal, Quebec, Canada

Located in the fast-developing Rosemont-La Petite-Patrie borough of Montréal, deNormanville is part of the first wave of post-moratorium additions exploring new avenues for the transformation of the city?s disappearing one-story typology, commonly referred to as ?shoeboxes?.

By taking the preservation of the original structure and the site?s mature trees as its primary point of departure, the project responds in a straightforward but ultimately radical way to the principal challenges of designing an addition to the small, vernacular structure set at the rear of the lot. Delicately weaving across the site?s landscape, it reaches out to restore the continuity of neighbouring façades.
While the old structure now finds itself preserved at the heart of the new home, the project reestablishes the presence of the one story typology in the heterogenous family neighborhood dominated by Montreal?s renowned ?missing middle? plex housing. It is a gesture that is modest, minimal, and memorable in its urban context.

Having owned the property for several years, the clients wanted to expand their tiny back lot home to accommodate the growing family. This meant additional bedrooms, larger living spaces, and spatial separation between the ...
_MURLDELAFUENTE
http://www.e-architect.co.uk/
--------------------------------
CALCULO DE MATERIAL PARA UN METRO CUBICO DE HORMIGÓN. Tutoriales de arquitectura.