Effective Communication Offices, Barcelona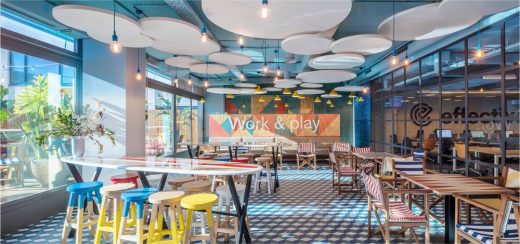 Effective Communication Offices, Catalan Architecture, Spanish Modern Commercial Interior Images
Effective Communication Offices in Barcelona
25 Jan 2021
Effective Communication Offices
Design: EL EQUIPO CREATIVO
Locaton: Barcelona, Spain

The Swedish company Effective Communication approaches EL EQUIPO CREATIVO with a clear wish: to offer their young Swedish team a new fun and fresh workspace in Barcelona; a place where they can both ?work hard" and "party hard", and which allows them to celebrate their "after-work" events and "Friday barbecues", important activities of their corporate strategy.

The design converts their workspace into a beach, bringing a fresh and fun atmosphere that invites the team to maintain a positive attitude, as part of their corporate philosophy.
In summary, the objective is that the design help lightens the call centre's hard-working schedule by offering spaces to relax, socialize and play. Through a new spatial concept, the company envisions generating a happy and fun company culture, with one aim: to retain their staff by developing personal relationships beyond work and creating a small "Swedish family" in Barcelona.

Concept

From the beginning, EL EQUIPO CREATIVO understood that the design needed to speak about the city of Barcelona since it was the main element of attraction for the Swedish staff moving to the company's new headquarters. And more specifically a spontaneou...
_MURLDELAFUENTE
http://www.e-architect.co.uk/
--------------------------------
presentation VALUE ENGINEERING