Electra Electronic industry Centre, Ia?i county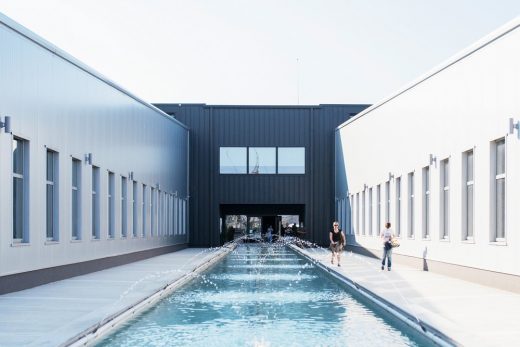 Electra Electronic industry Centre, Ia?i county Building, Romanian Architecture Images
Electra Electronic industry Centre, Ia?i county
5 Apr 2021
Electra Electronic industry Centre
Design: APLUSNOIMA
Location: Miroslava, Ia?i county, Romania

The Electronic Industry Centre in Ia?i brings together 11,000 square meters of production, office, technical and representation spaces, in a compact set of three industrial halls. They are linked together by a central body, which houses the common functions. At the center of this core sits a connecting ?void?. The atrium is a gesture of generosity, a wide and bright place that puts spatial and human relationships first.

The production spaces are organized horizontally, and the administrative ones, on the first floor.
Vertically, the three volumes adapt their shape to the inner and outer context. The sloping roofs address both the functional requirements of the buildings and the environmental conditions.Their shape solves the technical problems of rainwater capture, with the lowest costs of execution and exploitation, and implicitly optimizes the interior volume. At the same time, they are an expression of the communication between production and administration.

Inside the halls, administration, design, production, and delivery are experienced as interconnected processes. All departments are visually connected to support collaboration and the idea of belonging.
Three patios, separate the volumes and individualize the three halls. Th...
_MURLDELAFUENTE
http://www.e-architect.co.uk/
--------------------------------
MOL Campus in Budapest by Foster + Partners