Elm House, Halifax Home, Nova Scotia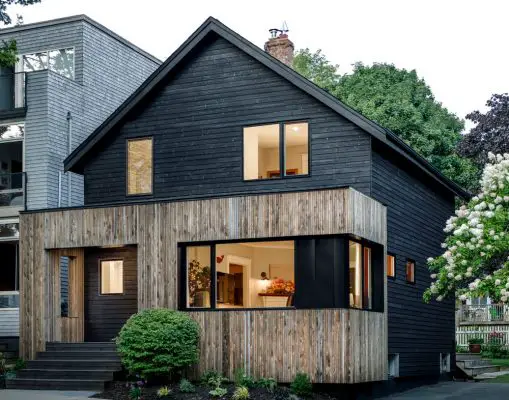 Elm House, Halifax Home, Canadian Building, Nova Scotia Real Estate Project, Architecture Images
Elm House in Halifax
4 Apr, 2021
Elm House in Nova Scotia
Design: Peter Braithwaite Studio
Location: Halifax, Nova Scotia, Canada

Elm House is located in the desirable Tupper School District of Halifax, this house displayed great potential for the young family who had recently purchased the property. Over the decades, this residence had been the subject of a number of poorly executed renovations. To address this, our team stripped the layers of vinyl and wood cladding back to the original shiplap sheathing. We then rebuilt the exterior of the home with the intention of creating a project that was sustainable in both design and construction practices.
Our primary design intention was to create functional responses to the existing building, by utilizing modern design and construction practices, without disrespecting the historic Halifax neighbourhood in which the house resided.

This was accomplished by maintaining the original gable form of the building and adding carefully design additions that refined the functional use of the structure. A new entry porch was added, which provided the home owners with a panoramic view of the beautiful tree lined street. This entry porch also contains a new eight foot wide staircase that was thoughtfully designed to encourage and facilitate the gathering of the local neighbours on summer evenings.

Similarly, the rear of the house was redesig...
_MURLDELAFUENTE
http://www.e-architect.co.uk/
--------------------------------
Patrik Schumacher and Harriet Harriss clash during education panel at Dezeen Day | Dezeen Day