Family House in Dob?í?, Czech Republic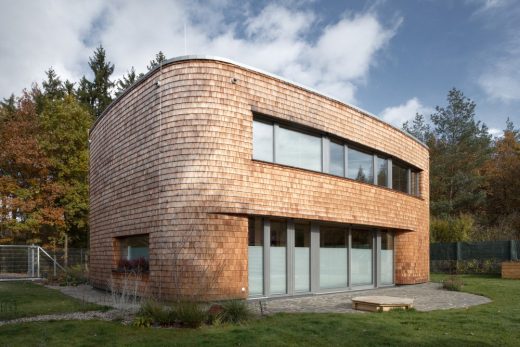 Family House in Dob?í?, Czech Republic Property Development, Real Estate Project, Architecture Photos
Family House in Dob?í?, Czech Republic
19 Jul 2021
Architects: Mimosa Architects
Location: Prague, Czech Republic

Dob?í? Family House, Prague
Dob?í? Family House is located in the colony of weekend cottages near a game preserve, which colony consists of small sized quaint houses, each of them being built according the taste and skill of its individual owner. The houses, mostly ?non-kissed by architecture?, pay tribute to individual owner?s capriciousness and improvisation.

As to its shape our house seems, a little, a kind of freak, too. Its forms were motivated by the wish of its future occupiers to have an unusual, environmentally soft house (?no box?) built of natural materials.
The house is located in the northern part of the plot, whose southern part is used as a garden. The house dimensions unfold from the size of surrounding buildings and are subject to local regulations. The house layout follows from its orientation and location, with the living areas facing to the garden, while service rooms are located in the northern part. The ground floor is designed with the view to emphasizing its open character and easy access to the garden.

As to its structure, the building is a wooden house made of massive wooden slabs provided with wood fibre insulation, while the surfaces are covered with larch shakes. The façade made of split shakes imparts a tinier scale to the house...
_MURLDELAFUENTE
http://www.e-architect.co.uk/
--------------------------------
In-tangibles by Stine Mikkelsen | The Mindcraft Project | Dezeen
-------------------------------------