Filbert Cottages, San Francisco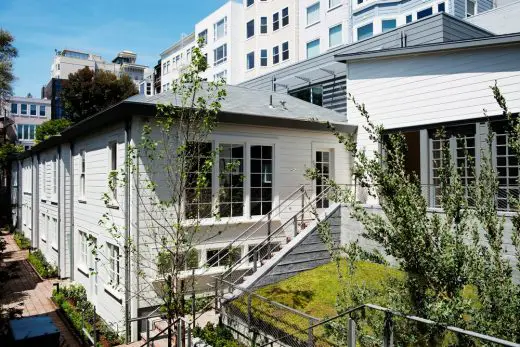 Filbert Cottages, San Francisco Building Project, CA Real Estate renovation, Californian Architecture Design Images
Filbert Cottages in San Francisco
Oct 13, 2021
Design: Buttrick Projects Architecture+Design
Location: Filbert Street, San Francisco, northern California, USA

Filbert Cottages, SF
The four old wood-frame cottages along the garden mews at 1338 Filbert Street were in terrible shape in 2007?severely deteriorated, rat infested, and in complete disrepair. The asphalt roofing on Filbert Cottages had failed, and the original wood siding was 60 percent gone. The paint was peeled off, dry rot had destroyed much of the framing, and the concrete foundations were cracked. Wooden doors and windows were missing panes and stairs were hazardous. Electrical wiring was exposed, plumbing was minimal. The garden was overgrown with weeds, and the brick hardscape was uneven. The original grape stake fence had been replaced with plywood. The property was a blight on the neighborhood.
Nevertheless, a San Francisco couple who lived in the neighborhood were smitten by the cottages' charm. They first noticed them on a stroll one evening, fell in love at first glance, and immediately saw the potential. The pair had some experience doing renovations, which gave them the confidence to purchase the site, in 2007, with the intention of doing a simple upgrade?sprucing the place up a bit for themselves and their friends, maybe adding a garage.

Ten years, many approvals, a few lawsui...
_MURLDELAFUENTE
http://www.e-architect.co.uk/
--------------------------------
Movie captures making of Neri Oxman pavilion spun by 17,532 silkworms