Floating Sauna, Tromsø Harbour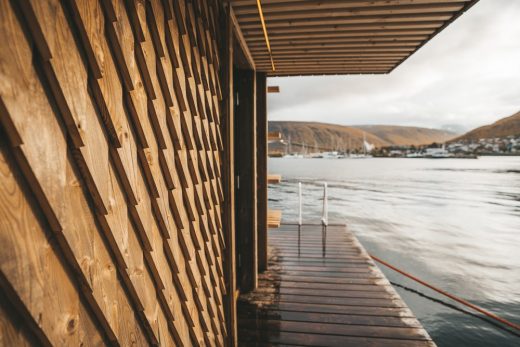 Floating Sauna, Tromsø Harbour, Tromsø Leisure Facility, Norwegian Timber Architecture Images
Floating Sauna in Tromsø Harbour
27 Jan 2021
Floating Sauna at Tromsø Harbour
Design: Skapa Architects
Location: Tromsø Harbour, Troms county, Northern Norway

Located in the middle of Tromsø Harbour in Norway, a luxury Floating Sauna offers visitors a chance to relax and enjoy unique views of the Northern Lights. Elegantly adorning the stunning coastline of Tromsø, the architects and designers of the impressive project selected Kebony wood, a global leader in the production of sustainable wood, for the exterior façade, and both the roof and ocean terrace decking, contributing to the striking appearance of the sauna.

Handcrafted furniture company Ekte, sauna specialists Pust and Skapa Architects worked through various challenges over the past year to create the floating masterpiece which is seen by locals and visitors as a space to breathe, disconnect from the world whilst connecting with each other.
Over 2,000 metres of Kebony Character was used for the external cladding, the decking, both on the roof and ocean terrace, and most uniquely for the shingled cladding around the entrance to the sauna. Kebony was the perfect choice for the unique project as it complements both the structural design and the natural arctic surroundings of North Norway, whilst requiring little maintenance. In addition, Kebony wood will develop a silver-grey patina as it ages, helping the sauna achieve...
_MURLDELAFUENTE
http://www.e-architect.co.uk/
--------------------------------
Fast Sketch - Cube Deconstruction - Basic Design Elements #2