Hamad Airport Expansion, Doha, Qatar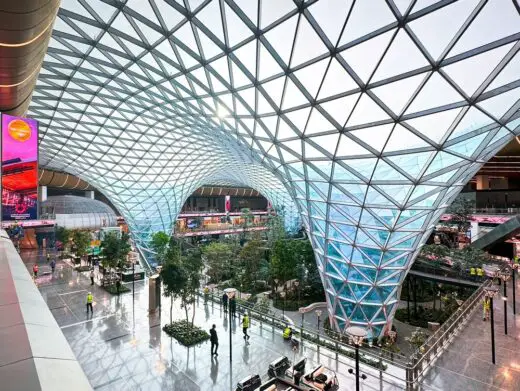 Hamad Airport Expansion, Doha Qatar, Doha Reimagined Building Development, Qatar Architecture Images
Hamad Airport Expansion in Doha
23 Nov 2022
Architects: Aedas
Location: Doha, Qatar

Hamad Airport Expansion, Qatar
Sustainable Hamad Airport Expansion Opens for The FIFA World Cup 2022
As The FIFA World Cup 2022 host, Doha has started the expansion of the Hamad International Airport (HIA) Central Concourse Project in 2019 to accommodate more than 58 million passengers annually. The project is completed and opened in November 2022.

Located south of Doha, HIA connects itself to the world as an international hub. HIA is set to further redefine the passenger experience, through this new expansion project, delivering a vibrant destination in Qatar. With efficient environmentally friendly measures, the project design achieved LEED Silver Certification and Global Sustainability Assessment System (GSAS) 4-Star ratings recognition.
The project consists of two phases of development. The completed Phase 1 development includes a central concourse that is expanded from the existing terminal, linking to the North Node. The design concept of the roof respects and continues the sweeping, dune like form of the existing terminal.

A column-free and long-span 85m grid shell structure supported by 3 funnels has adopted a gradually fritted glazed canopy for natural focused light penetration and temperature control, which supports the interior greenery to continuously grow and embrace the vi...
_MURLDELAFUENTE
http://www.e-architect.co.uk/
--------------------------------
Tools for therapy by Nicolette Bodewes