Herrera Law Office Building, Austin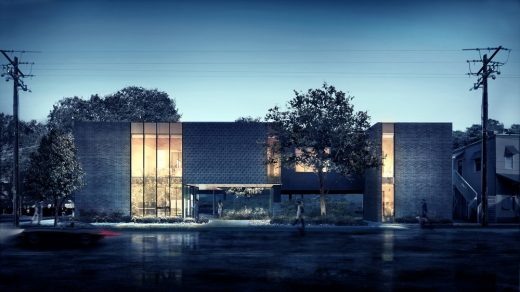 Herrera Law Office Building, Austin Real Estate Project, Texas Commercial Property, USA Interior Architecture Images
Herrera Law Office in Austin
Jun 9, 2021
Herrera Law Office
Design: Clayton Korte
Location: Austin, Texas, USA

After years of renting office space in downtown Austin, the clients wanted to invest in a permanent home for their boutique utility and administrative-law practice. The Herrera Law Office project offers an opportunity to create a workspace that will meet their specific needs and reflect their personality and taste: professional yet comfortable, expressive yet restrained.

The small urban site is only 7,700-square-feet, bounded by streets on three sides, and is home to three heritage live oak trees. These constraints are embraced as design opportunities, elevating the main occupiable space above parking and weaving the building around the trees to provide abundant views from the interior and a dynamic façade from the exterior. The new 5,800-square-foot building successfully meets the needs of the client, while remaining respectful of its site and context.
Allowing natural light to flood the interior spaces is a key design element. The massing incorporates a central light well that allows daylight to penetrate deep into the interior as well as highlight the entry as approached from both the street and the parking. All private offices ring the perimeter of the building, ensuring each has access to natural light. Windows frame views of the beautiful ...
_MURLDELAFUENTE
http://www.e-architect.co.uk/
--------------------------------
Make adds bronze escalators to flagship Harrods store