Het Licht van Jan, Amsterdam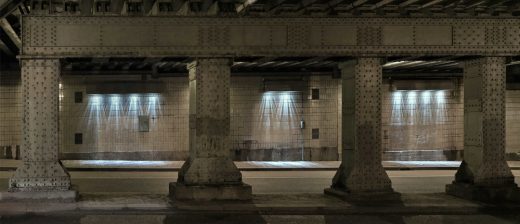 Het Licht van Jan, Amsterdam Architecture Installation, Public Art, Dutch Architecture Images
Het Licht van Jan in Amsterdam
2 Feb 2021
Het Licht van Jan
Design: Matthias Oostrik
Location: Amsterdam, North-Holland, The Netherlands
Pedestrians Create Surging Light Projections in Artwork by Matthias Oostrik

The light installation Het Licht van Jan (Jan's light) was unveiled today in an industrial traffic underpass near Amsterdam's city center. In the artwork by Matthias Oostrik, passersby activate surging light projections that illuminate the narrow sidewalk and weathered walls of the underpass. These undulating projections echo Amsterdam's history, recreating the reflections of sunbeams on the water, now replaced by artificial islands. To create the dynamic projections that move with the passersby, Het Licht van Jan uses a surprisingly simple arrangement of steel grates and widely spaced lights.
Matthias' artworks enable new and unusual connections between people and their surroundings. Using digital technology, his installations respond to visitors with changing light, video, or sound, allowing visitors to reshape their environment. His works in public space are often functional. They contribute to a sense of security and are designed to last.

An early and well-received example of his work is the Bijlmer Moodwall (2009), located in a pedestrian passage in Amsterdam. This interactive facade reacts to visitors with playful streaks of light that mo...
_MURLDELAFUENTE
http://www.e-architect.co.uk/
--------------------------------
Nike releases Air Max shoebox made from recycled cartons and coffee lids