Ji Pin Restaurant, Taipei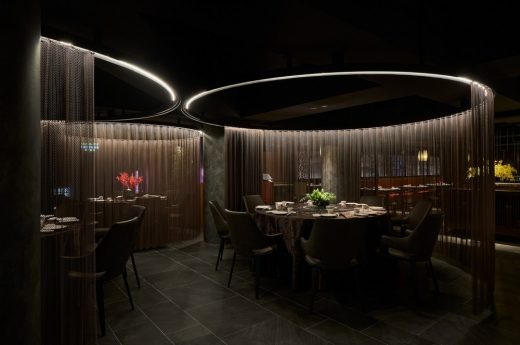 Ji Pin Restaurant, Taipei, Modern Taiwan Interior Design, Taipei Architecture Images
Ji Pin Restaurant in Taipei
22 Feb 2021
Ji Pin Restaurant
Architects: Jmarvel Interior Design
Location: Taipei, Taiwan
Literary Giant of Song Dynasty and Ancient Mythological Creatures
In the history of Chinese culture of five thousand years, there was an extraordinary man, who had majestic vision, was gifted with unique taste in aesthetics and foods, and could discover the delicacies from simple food. He proudly called himself the ?gourmet?, and his dream was to try all delicious foods on earth.

His name was Su Dongpo (??), one of the Eight Giants of Tang and Song Prose. He was also the first gourmet historically known.

The gourmet spirit of Su Dongpo (??), the literary giant in Song Dynasty, is infused into the new brand of creative Cantonese cuisine of Ji Pin (??). We associate Su?s characteristics as a gourmet with generosity, boldness, and gracefulness. This is foundation of the brand in the field of delicacies.
The lobby is decorated with statues of mythological creatures (Taotie, Dragon, Tiger and Pixiu) which symbolize an ancient reference of gourmet. They also represent the mystery and prestige of royal power on Taotie pattern of bronze ware in Shang and Zhou Dynasties. Deriving from the mythological creatures, the scales of dragons are used for wall decoration. The classical sentences of Su Dongpo (??) are presented at the end of the corridor and besides the seats of the client...
_MURLDELAFUENTE
http://www.e-architect.co.uk/
--------------------------------
Erika Emeren uses spit-cake technique to create decorative vases