Joie de Vivre, Outremont Montreal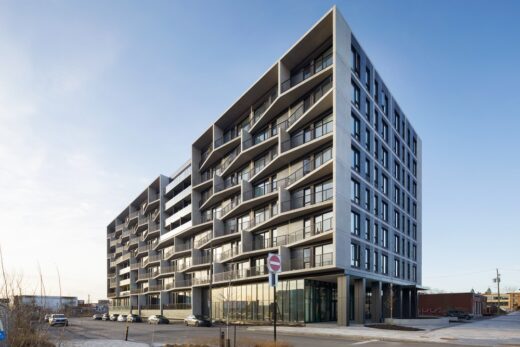 Joie de Vivre Housing, Outremont Apartments, Montreal Residential Architecture, Canadian Homes Images
Joie de Vivre in Outremont Montreal
3 Oct 2022
Architects: ACDF Architectur
Location: Outremont, Montréal, Québec, Canada

Photos by Adrien Williams
Joie de Vivre Housing, Montréal
ACDF Architecture, a forward-thinking Canadian firm internationally recognized for designing a new generation of meaningful and impactful buildings, is proud to unveil Joie de Vivre, a 225-unit residential building thoughtfully integrated into an industrial backdrop. In order to breathe new life into a former railyard and industrial sector in Montreal?s Outremont neighborhood, ACDF was commissioned to design the 8-story apartment complex to help set a new tone for the neighbourhood, and to contribute to a new residential community emerging around the new campus of Université de Montréal.
Vivre is one of the first structures to be built along Thérèse Lavoie-Roux Street, paved across the old train yard and tracks to connect the neighbourhood with the new campus, as well as to Montreal?s historic Park Avenue. As one of the first projects to emerge in the rethought district, ACDF embraced the opportunity to set the bar high in terms of delivering inspiring architecture for future builds.

?We began by focusing on coherency in requalifying the industrial zone to ensure that we wouldn?t leave the district?s history and spirit behind, while finding ways to celebrate its industrial soul,? explains ACDF ...
_MURLDELAFUENTE
http://www.e-architect.co.uk/
--------------------------------
Walls with integrated furniture and yellow nooks encourage play in Madrid school