Kew Courtyard House, Melbourne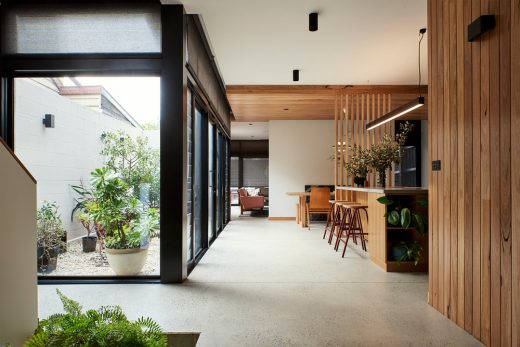 Kew Courtyard House, Melbourne Home, Australian Real Estate Renovation, Architecture Images
Kew Courtyard House in Melbourne
13 Oct 2021
Design: Drawing Room Architecture
Location: Kew, Melbourne, Victoria, Australia

Kew Courtyard House
Kew Courtyard is a forever home for a creative couple. The house supports their mutual love of entertaining, art, gardening and mid century architecture. The site was a previously subdivided one being only 7m wide yet over 45m long with north following the long side of the site.

To create a two bedroom, one generous study, two bathroom home with a sunny kitchen & dining and a separate living room, planning was key. Living rooms where placed to get lots of natural light and garden views, meaning a central courtyard needed to be carved out. This courtyard would be the lungs, green and light lantern to the ground floor living areas. The study was located on the ground level also with street views. The two bedrooms are on the first floor were they have private leafy views over surrounding rooftops.

What was the brief"

A forever home on a narrow site that maximised daylight with really good connections to a garden, with a study, a studio, a darkroom and a pond & with a nod to mid century architecture. Easy.

What were the key challenges"

On just under 7m wide and tapering in half a metre it was a very narrow site. It also had an eclectic heritage overlay and needed parking for one car on site, that along with fitting 2...
_MURLDELAFUENTE
http://www.e-architect.co.uk/
--------------------------------
Dezeen Awards is an "extraordinary initiative" says Norman Foster | Dezeen Awards