K:Port Mobility Hubs, London + Portishead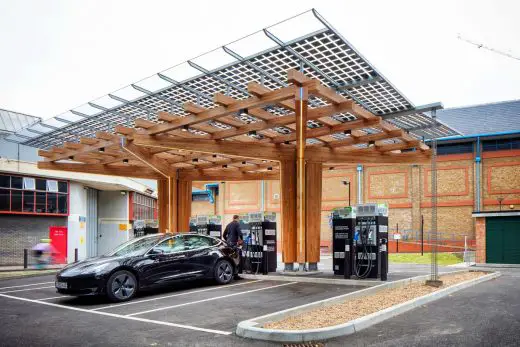 K:Port Mobility Hubs, London and Portishead News, New British Building, England
K:Port Mobility Hubs in London and Portishead
13 September 2021
Design: Hewitt Studios
Hewitt Studios LLP – K:Port® Mobility Hub | Enabling the Sustainable Electrification of Transport
K:Port Mobility Hubs in UK
Award-winning architect Hewitt Studios LLP unveils the first of its pioneering K:Port® Mobility Hubs in London and Portishead, which have been designed to inspire and enable the sustainable electrification of transport.
K:Port® is a low-carbon, multi-modal transport solution designed to democratise e-mobility and inspire behavioural change within the communities it serves. Unlike established and familiar solutions it allows deployment in prominent and sensitive locations, with minimal environmental impact and a secure & flexible long-term legacy. K:Port Woolwich, London, England:

K:Port® represents a fresh approach to e-mobility and a declaration of the ?art of the possible?. Hewitt Studios? intention is that this attractive, front-of house mobility hub offer will, with a clear focus on well-being, health and sustainability, help to motive consumer changes in behaviour.
Concept

Hewitt Studios? concept for K:Port® derives from the Japanese notion of ?Komorebi?; the dappled light which occurs when sunlight shines through the leaves of a tree. The essence of the tree is apparent throughout the K:Port®, from the form of the canopy itself and the timbers which make up its structu...
_MURLDELAFUENTE
http://www.e-architect.co.uk/
--------------------------------
Watch our talk with Marshalls about building sustainably with brick | Talks | Dezeen