Leftcraft Taproom, Edmonds Washington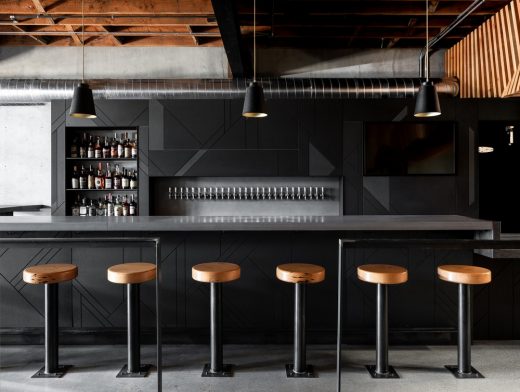 Leftcraft Taproom, Edmonds Commercial Project, Architecture Photos, Washington Bar Interior
Leftcraft Taproom in Edmonds, Washington
Jun 10, 2021
Leftcraft Taproom
Design: Graham Baba Architects
Location: Edmonds, Washington, USA

Situated in a 1950s-era, single-story building on Main Street in downtown Edmonds, Leftcraft is casual and approachable, yet distinct from local restaurant and bar establishments. Rich materiality and an embrace of time-worn patina set the venue apart from other establishments in town.

The latest in a series of restaurants developed by the same owner, Leftcraft evolves the exploration of themes established in the most recent iteration. Here, the design explores and plays with themes of materiality, color, and texture and the contrast between new and old.
The infill building, modified at various times during its existence, features concrete walls and floors and a tongue-and-groove Douglas fir ceiling, all of which were cleaned and left exposed to express the building?s character.

Eighty feet deep and just twenty-nine feet wide, the south façade features a fifteen-foot roof overhang which shelters an eight-foot-deep outdoor patio. The existing fixed front facade was replaced with bi-fold wood-and-glass doors to enhance the connection between the patio with the interior space. A clerestory band of windows runs across the top of the north, alley side of the building.

Seating for ninety is handled through a mix of bar stools, communal tables ...
_MURLDELAFUENTE
http://www.e-architect.co.uk/
--------------------------------
CONSTRUCCIÓN DE UN PENTRAEDRO. Tutoriales de Arquitectura.