Maggie?s Cardiff Building, Dow Jones Architects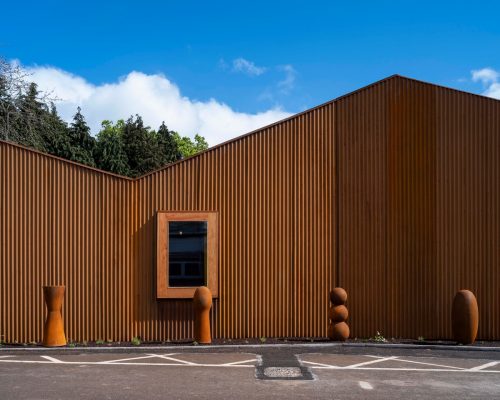 Maggie?s Cardiff Building Photos, Welsh Healthcare Architecture Project, Dow Jones Architects
Maggie?s Cardiff Building Award
14 Sep 2021
Maggie?s Cardiff
Design: Dow Jones Architects

photo © Anthony Coleman
Maggie's Cardiff
Jury Report
Maggie?s Cardiff is the 19th completed Maggie?s Centre and adds to the pantheon of architects that have made these buildings a vital part of the contemporary British architectural scene.
The Velindre cancer care centre in the north-west suburb of Cardiff is the usual depressing hospital landscape, surrounded by a sea of parking. But of course, the inhospitable medical setting was the very reason that the late Maggie Keswick Jencks set out to counter in providing a place where those having to face the diagnosis of cancer can find an oasis of hope and support. ?If you look after the carers, the carers can really look after the patients ? you create a virtuous circle?, said Charles Jencks.
photo © Anthony Coleman
This building occupies an awkward triangular plot at the back of a car park. On first sight it is at once striking and surprisingly diminutive ? but with its orange carapace formed of rusty corrugated sheeting, it stands out from the bleak surroundings. The architects talk about the form reflecting the silhouette of the Welsh hills and the repetitive gables of Valley towns, and the colour referencing the region?s red sandstone or the autumnal colour of bracken on the nearby hills, or the industrial buildings of the Valleys ? ...
_MURLDELAFUENTE
http://www.e-architect.co.uk/
--------------------------------
DIRECTRIZ