McGill University Power Plant, Montréal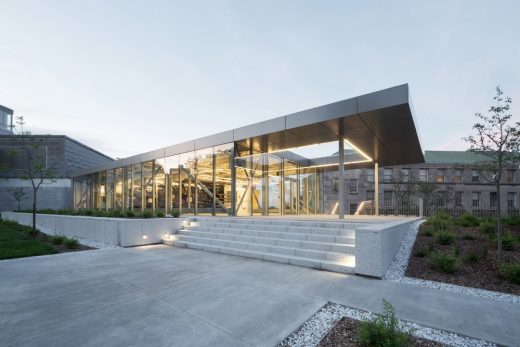 McGill University Power Plant, Canadian Campus Building, Quebec Architecture Development, Images
McGill University Power Plant in Montréal
Feb 22, 2021
McGill University Power Plant
Design: Les Architectes FABG
Location: Montréal, Québec, Canada
McGill University needed a new building to house three 1.5 MW emergency facilities, generators that will protect research activities in the event of a power outage. The McGill University thermal power plant and the Wong, Rutherford, Administration, and Leacock pavilions are powered by a single emergency generator located in the Ferrier building in the immediate vicinity of the boiler room. This presents risks that should be limited by Housing New generators in separate spaces in the immediate vicinity.
The feasibility studies compared several location hypotheses, which led to the location of the structure between the Ferrier building (1963) and the Wong Pavilion (1990) being the best location. These preliminary studies also described the functional parameters associated with the two required 1.5 MW generators and the possible addition of a third in the future.

Innovation

The project was developed as part of a multidisciplinary integrated design exercise combining historical research, architecture, engineering, landscape, and urban acoustics to formulate a sensitive response to a problem that cannot be limited to utilitarian considerations.

The steeply pitched lot was an unused parking lot on Dr. Penfield avenue, which supported ...
_MURLDELAFUENTE
http://www.e-architect.co.uk/
--------------------------------
Serpentine Gallery Pavilion 2008 by Frank Gehry