Melo Alves 645 Building São Paulo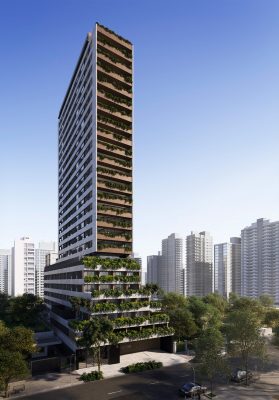 Melo Alves 645 São Paulo Building, Brazilian Architecture, SP Real Estate, Property Photos
Melo Alves 645 Building in São Paulo
21 July 2021
Melo Alves 645 Building São Paulo
Architect: MOS Incorporadora, Brazilian firm of real estate development with internal architecture team
Location: near Paulista Avenue in the middle of the city, SP, Brasil, South America
Apartament photos: Maira Acayaba

3d renderings © Blackhaus
The New Melo Alves 645 Residential Building, with Architectural Project and Development by MOS, is Safe Haven in São Paulo
The Melo Alves 645 Tower highlights the urban context, the sights surrounding the building, and people?s well-being. Such characteristics are found in the residential building located in the heart of Jardins neighborhood,  close to infrastructure and facilities available in the neighborhood. MOS has rolled out building architecture and development. The company invests in good projects because they play a crucial role when building better places to live.
Located in a prestigious block in Jardins, between Oscar Freire and Estados Unidos streets, Melo Alves 645 is MOS' first venture run by three partners. Business manager Eduardo Andrade de Carvalho and architects Manoel Maia and Matheus Farah Leal. They have teamed up to place architecture at the center of this real estate development. Even out in the street, you can feel Melo Alves 645?s atmosphere.

An inviting facade, surrounded by plants with no walls or railings subtly place th...
_MURLDELAFUENTE
http://www.e-architect.co.uk/
--------------------------------
Second Home Hollywood | Architecture | Dezeen