Mountain Shelter, Luba? Poland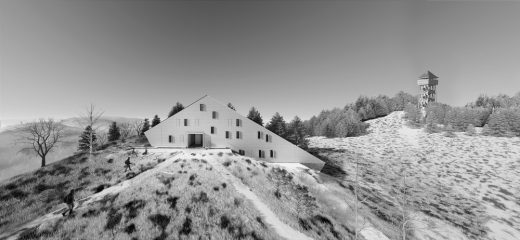 Mountain Shelter, Luba? Modern Building, Poland, Polish Architecture Photos
Mountain Shelter in Luba? Poland
3 Apr 2021
Mountain Shelter
Architects: TOPROJEKT
Location: Luba?, Poland

The designed Mountain Shelter building follows the slope to the north, descending almost to the bottom of the valley to the level of the tent base. As the slope rises slightly to the west, it was possible to meet the provisions of the plan with the height relative to the surrounding area, despite the design of four storeys. Windows on the northern slope of the roof almost do not affect its surface, thanks to which the body is very compact and homogeneous, especially after closing the shutters. The compositional lines follow the landscape, and the volume of the design only raises on the top of a small hill on which it is designed.
Many factors speak for the location of the new building other than the historic ruins. The ruins, although of great historical value, are nevertheless a strong interference with the natural structure of the mountain. It does not seem advisable to inflict another wound on the mountain by building a shelter elsewhere. It is certainly an optimal place for scenic reasons. To the north you can see the Beskid Wyspowy(Island Beskids) perfectly, to the southeast the Pieniny mountain range, and over the treetops growing on the steep slope to the south, there is a spectacular panorama of the Tatra Mountains.

The ruins of shelters are not suitable for use. The remains of the b...
_MURLDELAFUENTE
http://www.e-architect.co.uk/
--------------------------------
Ultra-lifelike figure shows potential future of virtual reality