Municipal Market of Famalicão, Portugal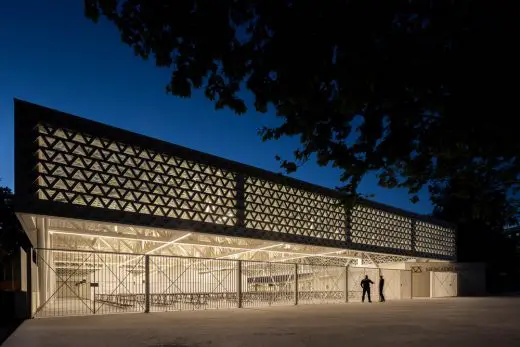 Municipal Market of Famalicão, Northern Portuguese Building, Modern Commercial Redevelopment, Architecture Photos
Municipal Market of Famalicão in the northern of Portugal
13 Sep 2021
Architect: Rui Mendes Ribeiro
Location: Famalicão, Northern Portugal

Municipal Market of Famalicão
Historical Background

Opened on September 21st of 1952, the construction of the Famalicão Municipal Market had a dual purpose: on one hand to decongest the old fairgrounds (nowadays D. Maria II Square) and on the other hand to make a more pleasant space with better hygienic conditions.

After a golden period, the Market presented itself, at the date of the intervention, as an obsolete space without a dynamic capacity to attract new and diversified consumers.
Urban Context

The main building consists of three contiguous rectangular bodies, with a turret that bears the City's coat of arms, which marks the transition between D. Maria II Square and Capitão Manuel Carvalho Street.

At a higher elevation, the access to the Market's courtyard (Square) is made through two entrances – to the North, by the captain Manuel Carvalho Street and to the West, by the D. Maria II Square. The courtyard, at a lower level, was supported by three buildings in which was sold meat, fish and fruit.

The main volume, which was maintained and rehabilitated in the architectural Project, takes form of a broken line in blueprint, but in a higher level it accompanies the street front. The interior sp...
_MURLDELAFUENTE
http://www.e-architect.co.uk/
--------------------------------
REPRESENTACIÓN DE UN PUNTO EN EL SISTEMA DIÉDRICO