New Town Quarter Edinburgh Development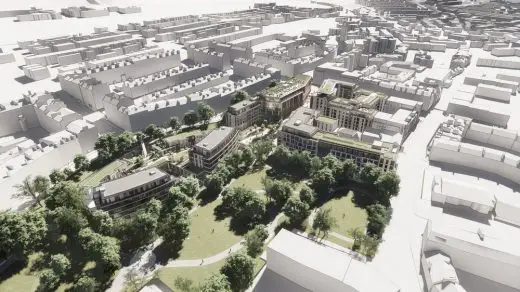 New Town Quarter Edinburgh, Ediston Development, Orion Capital Managers Building, Scottish Architecture News
New Town Quarter Edinburgh
20 Nov 2020
New Town Quarter Edinburgh News
Location: Dundas Street, New Town, Edinburgh, Scotland
Architects: 10 DESIGN

10 Design reveals images of Edinburgh?s New Town Quarter Development
10 DESIGN?s architectural concept for Ediston and Orion Capital Managers? New Town Quarter development in Edinburgh has been revealed.
International architecture practice 10 Design has led on a unique design concept for one of the largest redevelopment projects in Edinburgh?s city centre which will transform the former Royal Bank of Scotland (RBS) site on Dundas Street into a first-rate mixed-use development.
Earlier this year, Ediston and Orion Capital Managers submitted plans for New Town Quarter ?previously referred to as New Town North?for planning following an extensive public consultation exercise through the pre-planning process.
The proposed mixed-use development will create a new urban centre, providing a significant addition of public realm, including office, hotel, retail and residential components. Proposed new buildings to Fettes Row are designed to respond sensitively to the adjacent listed buildings, whilst retaining and strengthening the existing ?green edge? boundary of the site.
The development will replace the existing car park and ex RBS office with a new integrated development that respects its unique location bordering the World H...
_MURLDELAFUENTE
http://www.e-architect.co.uk/
--------------------------------
Watch footage of Universal Everything's immersive VR experience