Oasis Lanz Beach Mate, Lanzarote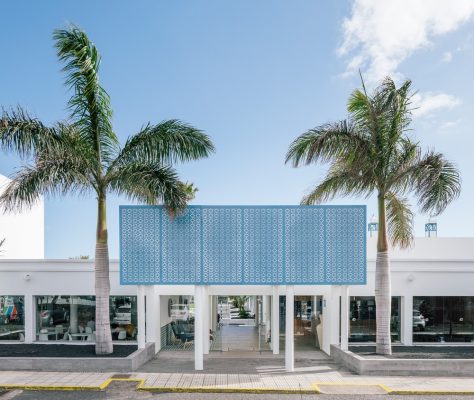 Oasis Lanz Beach Mate, Lanzarote Hotel, Spain, Spanish Resort Architecture, Photos
Oasis Lanz Beach Mate in Lanzarote Spain
17 Feb 2021
Oasis Lanz Beach Mate
Design: ZOOCO ESTUDIO
Location: Seafront of Las Palmas de Gran Canaria, Spain

The Oasis Lanz Beach Mate project includes several actions in a hotel complex located in the central-east area of the island of Lanzarote.

On a plot of 19,162 sqm in a rectangular shape, small white constructions are located and grouped generating two central spaces in its interior in which the outdoor interrelation environments are developed. Relations such as swimming pools and gardens.

To strengthen the unity of the entire complex, we cleaned the ornaments and decorative elements that generated a disorganized and confusing image. It has chosen for the existing white color as a base, and blue for all exterior carpentry and enclosures, as well as the use of glass, basalt and bamboo, generating a very harmonious set with the environment, elegant and captivating.
A common resource is repeated throughout the complex. The use of a lattice generated with various materials, which is represented inside the rooms, and in the glass door of access to the bathroom, as well as on the outside of the complex, in blue metallic.

The small buildings, of two and three heights, house the accommodation units, with various typologies, double rooms with lounge, studios, and apartments with kitchen. All units have been reformed, following the same criteria...
_MURLDELAFUENTE
http://www.e-architect.co.uk/
--------------------------------
Bouroullec brothers design flat-pack Can sofa for Hay's 2016 collection