Perfect Feng Shui House, Singapore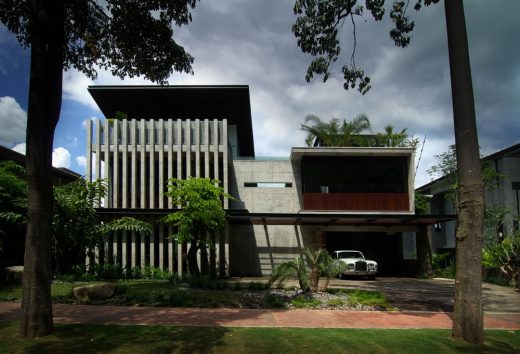 Perfect Feng Shui House, Singapore Residence, Southeast Asia Terrace House Home, Architecture Photos
Perfect Feng Shui House in Singapore
1 May 2021
Perfect Feng Shui House
Design: Aamer Architects
Location: Singapore

According to the clients, the site for this house epitomises the Perfect Feng Shui: jor san, hiong hoi (the transliteration of spoken Cantonese for the Chinese concept of ??, ??, loosely translated as sitting with the mountain at the back, facing the sea).

Like other houses designed by Aamer, this house was also designed to capitalise on what the site offers while maximising the landscaping and other means of passive cooling to create experientially delightful spaces in the tropics.

For example, this house was dissembled into two connected pavilions and configured to capture the sea breeze along with the views of the golf course directly in front and the sea in the background.
Part of the house, especially the upper levels, was designed to capture the view of the hill behind.

Furthermore, lush landscaping was incorporated into different parts of the house, providing shade and extra insulation.

This house is however slightly different in that many green features are integrated into this house: the roofs are lined with photovoltaic panels to convert solar energy to electricity, LED (light-emitting diode) lighting is used throughout, rainwater is harvested for the irrigation of the landscape, water plants are used in the bio-filtration system for t...
_MURLDELAFUENTE
http://www.e-architect.co.uk/
--------------------------------
TORRE GRÚA.