Piazza Degli Alpini, Bergamo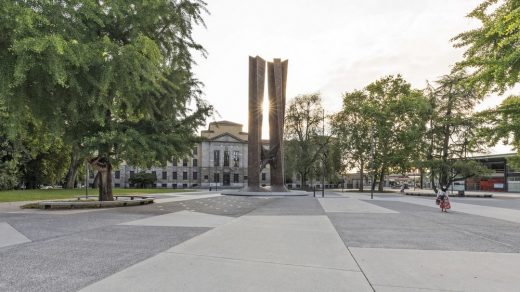 Piazza Degli Alpini, Bergamo City Urban Landscape, Italian Architecture Images
Piazza Degli Alpini in Bergamo, Italy
22 Feb 2021
Piazza Degli Alpini
Architect: Studio Capitanio Architetti and OSA Architettura e Paesaggio
Location: Bergamo, Italy
The redevelopment of Piazza Degli Alpini was carried out by Studio Capitanio Architetti and Osa Architettura e Paesaggio on behalf of Bergamo Municipality between 2018 and 2020. It is at the centre of the redevelopment of public spaces, which defines the city in a period of urban regeneration.

This limited budget project recovered the collective dimension of the largest open space in the city mitigating the long-standing social issues that affected this central area, which was frequented by individuals at the margin of society and indifferent passers-by hurrying along.
The square is barycentric between the 1900s central system by Piacentini and the wide expansion of Porta Sud. It is positioned along the historic avenue originally known as Viale Ferdinandeo, enriched by majestic trees and the monument to the Alpini (Alpine Corps), created in the 1960s, designed by Architect Gambirasio.

The new square is imagined as a wide, freely accessible expanse able to re-establish for this space a new sense of belonging to the city. Open spaces and safe, free views that allow the enactment of new collective urban behaviours such as events, open-air cinemas, temporary displays and local markets. The global view of the square invites the intere...
_MURLDELAFUENTE
http://www.e-architect.co.uk/
--------------------------------
Birce Ozkan's feathered Augmented skirt double as a navigational aid