Piezoelectric Loom Aviary, Suzhou City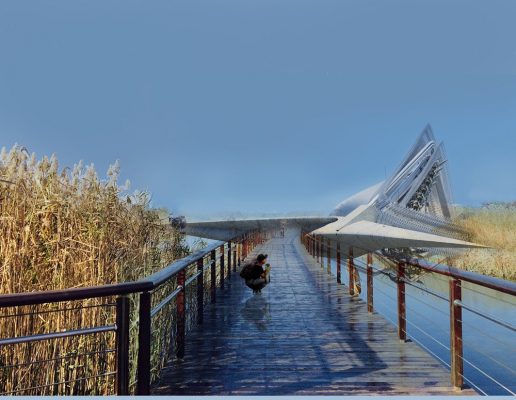 Piezoelectric Loom Aviary, Suzhou City Building, Chinese Interior, China Architecture Images, Architect
Piezoelectric Loom Aviary in Suzhou City
19 Nov 2020
Piezoelectric Loom Aviary
Architect: Margot Krasojevi?
Location: Suzhou City, China

The design brief was originally for an aviary, bird-watching platform, and shelter in the Suzhou Taihu Lakeside National wetland park.
The main design objective for Piezoelectric Loom Aviary incorporates the serenity of the environment with the characteristics of birds in flight.

The building includes a high tensile steel loom structure that acts as a gallery for the resting birds. The primary structure is made out of a series of stainless-steel spine beams from which motors move and sway like plumes. The structure flutters gently as birds freely fly around the aviary, reverberating like a loom choreographed by birds in flight. Piezoelectric cells connected to the motor?s fluttering quill-like tentacles harness this movement and produce an electrical current, the piezoelectric cells respond to the overall mechanical stress generated by the structure and use this to accumulate electrical charge, which runs through the dichroic-filtered electrochromic glass cladding to modify the façade?s transparency and luminosity. This facade flutter responds directly to the density of bird movement, such that the birds dictate the character of the building within their environment.

The structure partly reflects and disappears into the wetlands, crea...
_MURLDELAFUENTE
http://www.e-architect.co.uk/
--------------------------------
Live talk with Arthur Mamou-Mani and Dassault Systèmes