Planet Word Museum, Washington DC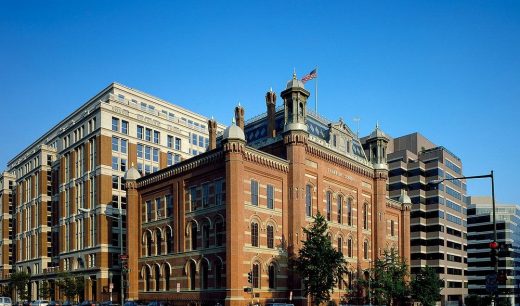 Planet Word Museum, Washington DC Renovation, USA Public Architecture, Building Images
Planet Word Museum in Washington DC
Nov 20, 2018
Planet Word Museum
Design: Beyer Blinder Belle
Location: Washington, D.C., USA

Photographs in the Carol M. Highsmith Archive, Library of Congress, Prints and Photographs Division
Beyer Blinder Belle? (BBB) announces that? Planet Word, a revolutionary museum dedicated to the power, beauty, and fun of language, opened to the public on October 22nd. The Museum is housed in D.C.?s historic and long-vacant Franklin School, which was revitalized by Beyer Blinder Belle.
Planet Word is the world?s first voice-activated museum, featuring three floors of interactive galleries and exhibits to engage visitors of all ages in experiencing words and language from a wide range of perspectives?from the science of how language skills develop early in life to how words are used creatively and persuasively in music, poetry, humor, advertising, oratory, and literature.?General admission is free. BBB oversaw the preservation and rehabilitation of the 53,244-square-foot Renaissance Revival building designed by Adolf Cluss, which is recognized as a National Historic Landmark. Standing at 925 13th Street NW, the building opened in 1869 as the cornerstone of a comprehensive system of segregated education for the city of Washington. The school was chosen to house Planet Word in large part for its rich history in public education and historic connection to the mu...
_MURLDELAFUENTE
http://www.e-architect.co.uk/
--------------------------------
PARTES DE LA ESCALERA