Prague East High-speed Terminal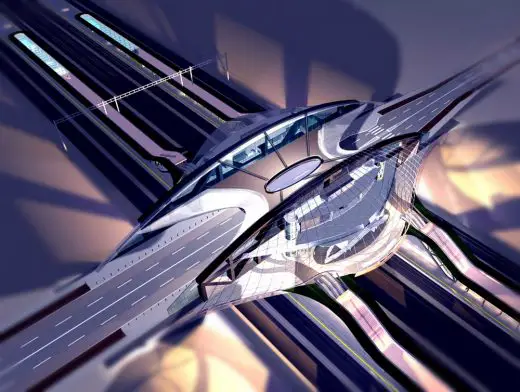 Prague East High-speed Terminal Design Competition, Czech Republic Railway Architecture
Prague East High-speed Terminal Building
1 Jan 2021
Prague East High-speed Terminal Design
Design: Vision Architecture S.r.o. + Pro Cedop S.r.o.
Location: Prague, Czech Republic

Prague East High-speed Terminal Competition
The subject ? matter of the Competition is in drawing up an architectural and urbanistic design for a new railway terminal Prague East that will form a part of the first high-speed railway section in the Czech Republic.

The Terminal will serve as a transport hub between the Prague-Brno and Prague-Hradec Králové high-speed rail lines (HSR). At the same time, it will become a P+R point for the eastern part of the Central Bohemian Region for commuting both to Prague and Brno. The architectural and technical solution of the Terminal should symbolize a new era of rail transport and infrastructure in the Czech Republic, which will be, once HSR is finished, connected to the European rail network.
The territory under scrutiny is located within the area of the municipalities of Nehvizdy (3,675 inhabitants / 9.83 km² / alt. 240 m.) and Jirny in the north-eastern part of the district of Praha-východ. The location of the building plot for placing the Terminal is determined by the location of the station in the design project for the Praha-B?chovice ? Po?í?any HSR track and is situated in close proximity to motorway D11.

The land is flat and the track runs in a cut of about 8 m...
_MURLDELAFUENTE
http://www.e-architect.co.uk/
--------------------------------
Atomik is artisan vodka brewed from crops grown near Chernobyl