Primrose Hill in Bloom, North West London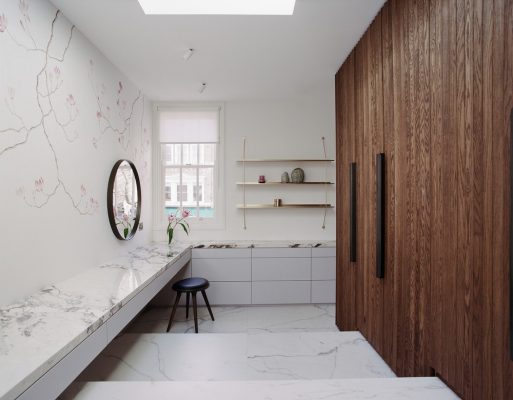 Primrose Hill in Bloom, North West London Residential Interior, English Architecture Images
Primrose Hill Bedroom Suite, North West London
21 Feb 2021
Primrose Hill in Bloom
Architects: Studio Space A
Location: Primrose Hill, north west London, England

Space A have refurbished a master bedroom suite in the heart of Primrose Hill, London.

Sensitively working with the historic building fabric, the spaces have been expertly composed with slick joinery, rich tones and delightfully finished by moments of charm.

Morning routine and natural light patterns were the stimulus for the design and delivery of these suite of spaces.

Space A worked closely with the owner to find their perfect combination of function and style whilst responding to the building?s historic fabric.
A fluted, solid oak wardrobe is the masterpiece of the suite. Hand- stained in a dark chocolate tone, it is finished with bespoke brass handles and complimented by marble surfaces. The canvas walls of the dressing room are adorned by an exquisite painting of the garden?s magnolia tree, eternally capturing spring blossoms. Equally rich tones and textures bleed into the adjacent spaces, uniting the first floor in signature elegance.
A team of expert joiners and builders worked with the design team to deliver these spaces to millimetre precision.
In devising the layout for the master suite, Space A considered a combination of elements to ensure that morning & evening flows were harmonious with the client?...
_MURLDELAFUENTE
http://www.e-architect.co.uk/
--------------------------------
1+1+1 create mix-and-match objects based on drawing game