Qin Group Second Operating Space, Chengdu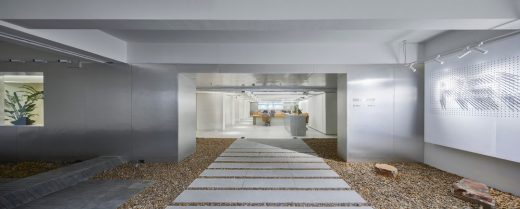 Qin Group Second Operating Space, Chengdu, Chinese Commercial Building, Architecture Photos
Qin Group Second Operating Space Office in Chengdu
5 Apr 2021
Qin Group Second Operating Space
Architecture: Studio DOTCOF
Location: Chengdu, China
Qin Group Second Operating Space
Qin Group is a West China-based full chain platform agency in the advertising industry. They are a regular customer of Studio DOTCOF, which designed their head office in Chongqing four years ago. They have now commissioned Studio DOTCOF to design the new office for their Chengdu branch.

The site conditions are very tough. The customer?s rented space consists of two adjacent, independent units separated by thick walls into two spaces, left and right, that are only connected by an external corridor.
The space is a long, narrow, deep rectangle, and the natural lighting in the middle is very poor. In addition, the beams are spaced relatively densely, and clearance under the beams at only 2.6 meters is low, which is a little depressing.

Studio DOTCOF has presented the concept of ?working under the same roof?, which is a metaphor for collaboration between different branch companies on the group platform to develop and grow together. It has designed a number of long, white, cylindrical ceilings to form the semblance of large eaves.

Then with light bars shining upward to brighten it, the light is guided through the arched ceiling and then refracted, forming a bright, soft, and diffusely-lit atmosphere.
...
_MURLDELAFUENTE
http://www.e-architect.co.uk/
--------------------------------
Kranen/Gille video interview: The Party lights for Moooi | Design Dreams | Dezeen