Rethinking healthcare design in global pandemic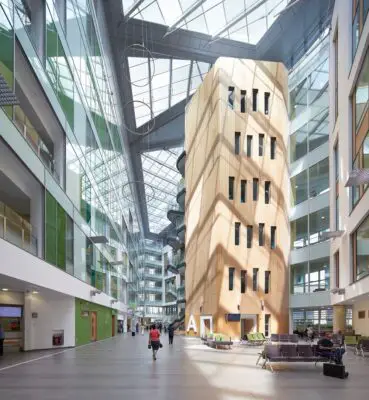 Rethinking healthcare design in Covid-19 pandemic, New Hospital Architecture after Coronavirus, BDP Buildings
Rethinking healthcare design in pandemic
12 Jan 2021
Rethinking healthcare design in Covid-19 pandemic
Rethinking healthcare design: lessons learned from a global pandemic
NHS staff are the heroes of 2020, we owe them immense admiration and gratitude for their incredible efforts and dedication. As we look forward to a new year with the prospect of vaccinations for all, what better way to help than to design healthcare estates that help improve their services.
Designing healthcare spaces that can be flexible to the changing needs of an area will be more essential than ever.
Southmead Hospital, Southmead, Bristol, England, UK:
photograph © Hufton+Crow
The design needs to reflect how patients will access healthcare. During the pandemic, many services were delivered virtually and video conferencing has become the norm for outpatient and doctor appointments. This could mean we need to design areas with much less outpatient space required but with flexibility in mind so that any space could potentially have multiple uses over its lifespan, including refurbishing and reconfiguring existing layouts to increase diagnostic and treatment space.
When BDP designed Southmead Hospital in North Bristol NHS Trust, for example, rooms were loose fit with services provided to accommodate multiple functions and arranged in defined clusters. Scenario testing showed that major it...
_MURLDELAFUENTE
http://www.e-architect.co.uk/
--------------------------------
Font Clock by Sebastian Wrong for Established & Sons