RTL Audio Center, Berlin Building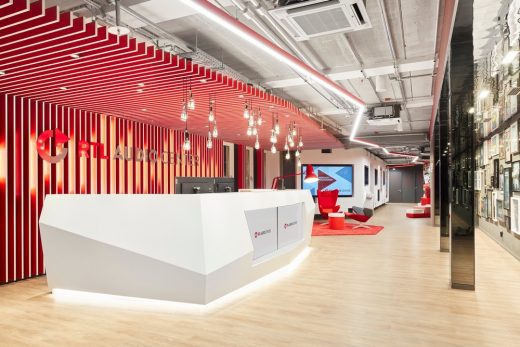 RTL Audio Center, Berlin Housing, German Architecture News, Images
RTL Audio Center in Berlin
3 May 2021
RTL Audio Center
Architects: Evolution Design
Location: Berlin, Germany

RTL opens its new audio center in Berlin

Broadcasting and media production company RTL has relocated its Berlin-based audio units to a new location. Completed in January 2021, the RTL Audio Center Berlin was designed by Swiss architecture studio Evolution Design.

Inspired by the energy of the music industry, interiors deliver an inspirational journey across the worlds of radio and news production, entertainment, and events. Berlin, too, plays an important role in the concept, with interiors referencing the gritty, hip nature of the city.

The overall aim of the project was to rethink radio and audio production and to design a technologically advanced hub with interiors that motivate and inspire media workers and visitors alike. The move also consolidates the operation of four radio stations and several media production companies into one space.
The 2,700 square meter center provides workspace for nearly 200 staff.

Layout

Interiors reflect user journeys through the space. The reception is the first point of entry and the most public area. It is designed to surprise and impress visitors and to give an insight into the workings of a radio station. The rock-shaped reception desk is decorated with microphone lights and vertical baffles lit in the form of a soundwave. Facing the reception is the Wal...
_MURLDELAFUENTE
http://www.e-architect.co.uk/
--------------------------------
Smart Hydro Power's floating turbines provide electricity to the world's most remote locations