Rue de la Gauchetière, Montréal Apartment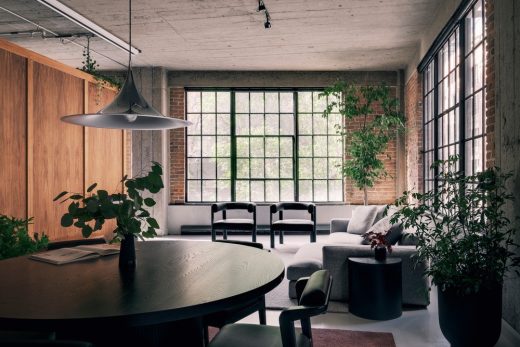 Rue de la Gauchetière Apartment, Montréal Interior Design, Canadian Residential Architecture, QC Building Project Images
Rue de la Gauchetière Apartment in Montréal
13 Oct 2021
Design: Future Simple Studio
Location: Montreal, Quebec, Canada

Rue de la Gauchetière Apartment
The Rue de la Gauchetière project is a thoughtful apartment renovation in a one hundred year-old heritage building near the Old Port of Montreal. The studio updates a loft through an elegant and unexpected architectural intervention that accommodates flexibility and togetherness for family living, while celebrating the space?s unique industrial character.

With flexibility and light as top priorities, Future Simple Studio conceptualized alternatives for the ubiquitous ?drywall with swing door? room that dictates much of the residential interiors. This led to a simple and adaptable concept: a box inside the box. Two glazed convertible wooden volumes are thoughtfully arranged within the concrete space. They?re programmed as bedrooms and used as spatial tools to organize the residential functions?kitchen, living, dining, study, reading, and exercise? which take shape on their periphery.
At once object and architecture, each is crafted as a bespoke kit of parts including everything from ceiling panels and mullions, to flooring and furniture. The bedrooms are also outfitted with a series of automated blinds?both sheer and blackout?that transform them from open spaces to semi or fully private rooms. In the e...
_MURLDELAFUENTE
http://www.e-architect.co.uk/
--------------------------------
Watch the Royal Academy's annual architecture lecture with Jean Philippe Vassal