Sbercity Residential Complex, Moscow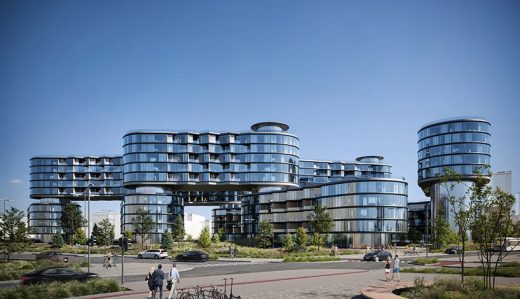 Sbercity Residential Complex, Moscow Homes, Rublyovo-Arkhangelsko Real Estate, Russian Masterplan Architecture Photos
Sbercity Residential Complex in Moscow
20 Sep 2021
Architects: Architects of Invention
Location: Rublyovo-Arkhangelskoe, Moscow, Russia

Sbercity Residential Complex
The proposed Sbercity Residential Complex site is located within the newly designed masterplan of Rublyevo-Archangelskoe, a territory which occupies 461ha to the west of Moscow. It is a large-scale LEED ND certified project, with aspirations becoming a sustainable, high-tech and harmonious live-work city for business and families. Located on the greenbelt, adjacent to the Moskva river, it is an attractive location less than hour away from the city of Moscow.
The 640 residential unit building complex is comprised of a singular universal block, interconnected on two levels. It thereby suggests a permeable, notional, perimeter block.

Each block is connected to the other as a bridge, which also produces a roof terrace on the free, upper surface of the block below. These terraces are for the leisure use of the residents. On the top-level, the roof terraces have gallery-type rooms above the lift cores with varying functions ? a library, a gym, a nursery, a boiler room and a gallery.

The site is divided in two parts where these two concatenating buildings are set. Two five storey universal blocks are connected to each other with a round core. At the connecting points there is a gap to allow access...
_MURLDELAFUENTE
http://www.e-architect.co.uk/
--------------------------------
Fast Sketch - How to use Tracing Papers as layers - Royal palace First floor Sketch Process