Shenzhen Bay Cultural Plaza masterplan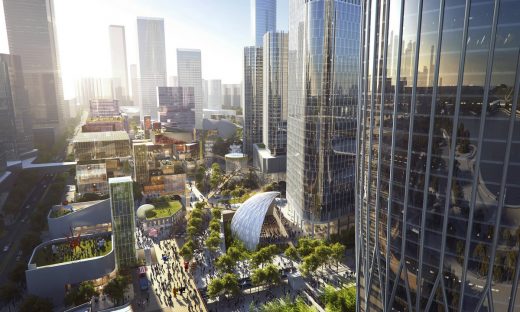 Shenzhen Bay Cultural Plaza masterplan design, Oval Partnership Chinese architecture images
Shenzhen Bay Cultural Plaza
10 June 2021
Shenzhen Bay Cultural Plaza Master Plan Design
Architects: The Oval Partnership
Location: Shenzhen, China

The Oval Partnership has unveiled its competition-winning masterplan proposal for the Shenzhen Bay Cultural Plaza in China. Shenzhen Bay Cultural Plaza is poised to become a world-class culture-led mixed-use development in the Bay Area.

The project is located at the Houhai district of Nanshan, Shenzhen, comprising a dozen of land parcels dissected by major thoroughfares. The Oval Partnership?s winning concept is to stitch these pockets of land and surrounding urban fabric back together, bridging the hinterland with a new coastline the Bay, connecting transit and culture, landmarks and open spaces, places and people.
Digital Placemaking was employed from the inception of the Shenzhen Bay Masterplanning process. Connectivity, pedestrian flow, and hybrid visual field metrics were leveraged to optimise footfall along with point-of-interest clustering analysis providing predictive analytics to fine-tune the proposal and enhance the value of the project.

CULTURAL NEIGHBOURHOODS
Central to the success of the Shenzhen Bay Cultural Plaza was the need for astute cultural positioning and robust cultural strategies. From the outset, The Oval Partnership collaborated with cultural entrepreneur cum creative consultant Philip Dodd of Made in China. I...
_MURLDELAFUENTE
http://www.e-architect.co.uk/
--------------------------------
Nikolas Bentel files patent for furniture series formed by his naked body