SL House, Canberra Property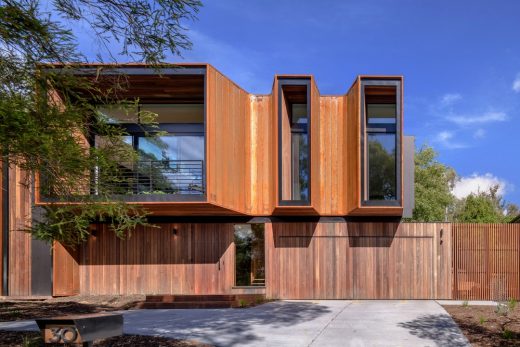 SL House Aranda, Canberra Real Estate, Australian Home, ACT Architecture Development Images
SL House in Canberra, ACT
22 Feb 2021
SL House
Design: Ben Walker Architects
Location: Aranda, Canberra, ACT, Australia

The SL House is located within one of Canberra?s most strongly landscape suburbs ? Aranda. The suburb is characterized by mature native Eucalypts and Acacias which are prevalent as street trees, parkland plantings and adjacent public reserve. The house comprises 3 bedrooms, kitchen/dining/living space, wet areas, and garage. The primary parti of the project is to establish an internal living environment that embraces the views and textural qualities offered by the strong landscape setting ? this strategy has driven internal planning decisions and resultant building form.
The house responds to its sharp fall from back to front by locating garage access and main building entry at street level. This approach results in elevated living spaces which suits the primary ambition of engaging living areas with canopy views. The kitchen, living and dining spaces all have selected and curated views to surrounding trees and hillsides to the east ? through broad picture windows or thin vertical apertures.

These rooms then turn to the north and north-west to engage at grade with the rear yard through stacking sliding doors. This creates an interior experience of being elevated and lost in canopies to the east, whilst bunkering down and holding the landscape to the north and we...
_MURLDELAFUENTE
http://www.e-architect.co.uk/
--------------------------------
Anandaloy is an Obel Award-winning community centre in Bangladesh