Stone House, Cornwall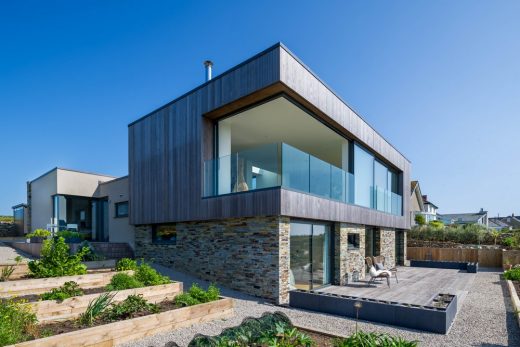 Stone House, Cornwall Property, Cornish Building, English Modern Architecture Images
Stone House in Cornwall, England
12 Jan 2021
Stone House
Design: Suzanne Brewer Architects and Lilly Lewarne Architects
Location: Cornwall, England, UK

Situated on the picturesque coast of Cornwall in South West England, the recently completed family home, dubbed the Stone House offers unparalleled sea views and a unique view of historic castle, St Michael?s Mount. Designed and brought to life by the combined efforts of Suzanne Brewer Architects and Lilly Lewarne Architects, Kebony, a global leader in the production of sustainable modified wood,was used to clad the exterior ofthis contemporarybuilding, creating a beautiful natural mix of both wood and stone.
The homeowner?s dream was brought to life earlier this year;Suzanne Brewer Architects, guided the project through a successful planning permission, whilst Lilly Lewarne Architects was the practice appointed to carry out the technical design and construction stages of this contemporary project by the sea.

Stone and Kebony wood were the materials selected inside and out for their authenticity and the way in which they ?wear in? instead of ?wearing out?, creating a rustic feel for the property which elegantly blends into the natural landscape of the Cornish hillside. Kebony?s enhanced durability, sustainable qualities and unique aesthetic made it the perfect choice of wood for this unique project.

Developed in Norway, Kebony?s revolu...
_MURLDELAFUENTE
http://www.e-architect.co.uk/
--------------------------------
Tomo Kihara offers homeless people a way to earn money without begging