Taft House, Portland Oregon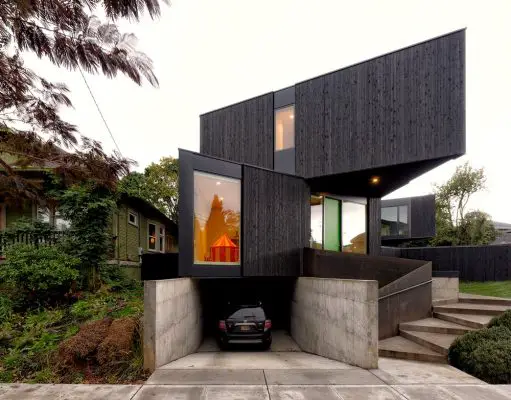 Taft House, Portland Real Estate Project, Oregon Building Design, USA Architecture Photos
Taft House in Portland
Apr 3, 2021
Taft House
Design: Skylab Architecture
Location: Portland, Oregon, USA

The Taft is a 3,930-square-foot, two-story, open plan house designed and built using HOMB, a prefabricated modular system developed by Skylab in collaboration with MethodHomes. The system provides an alternative to the typical time-consuming process of conventional site construction while also minimizing waste through precision prefabrication.

The house is built using 28 prefabricated modules. Each of the triangular-shaped, structurally independent modules is 100-square-feet in size and features pre-installed finishes and integrated building systems. Capable of a wide range of assembly configurations, when fit together, the modules create a structurally efficient system.
For construction, the building components for the house were divided and shipped to the site via a convoy of six trucks, each carrying 600 square foot of prefabricated modular volumes per truck. With the foundation completed prior to delivery, on-site installation was accomplished within a single day.

Situated on a steeply sloping urban infill site, the property is a modest 20-feet-wide. Outside, the house is wrapped with a blackened cedar rainscreen that rests over two inches of rigid insulation plus blown-in insulation within the walls. Inside, the open plan features a combined living, kitchen, and dining...
_MURLDELAFUENTE
http://www.e-architect.co.uk/
--------------------------------
Vank's soundproof pod offers a private workspace in open-plan offices