Venice Biennale Slovenia Pavilion 2021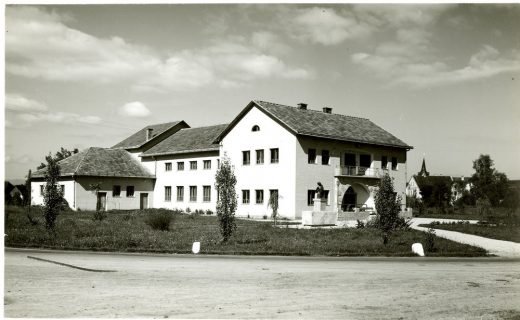 Venice Architecture Biennale Slovenia Pavilion 2021, Exhibition in Italy, Design
Venice Biennale Slovenia Pavilion 2021 News
30 Apr 2021
La Biennale di Venezia Pavilion of Slovenia 2021
The Common in Community
Seventy Years of Cooperative Centres as a Social Infrastructure
Pavilion of Slovenia
at the 17th International Architecture Exhibition ? La Biennale di Venezia
Cooperative centre in Kostanjevica na Krki, 1953:

photo Courtesy of Bo?idar Jakac Art Museum, Kostanjevica na Krki (photo: Lado Smrekar)
As we go through our daily routines we frequently overlook how important community is in our lives; we lose sight of our place within it, our relationships with other people, and how strongly this shapes our daily lives. But once this interaction is broken due to personal or social circumstances, it soon becomes obvious how much it is missed. It?s in times of economic, health or natural crises that indoor public community spaces suddenly become extremely important connective elements whose existence is crucial for the widest community. The exhibition focuses on the Cooperative Centre ? a multipurpose public building most often set in a rural context. In villages, small towns and suburban areas they serve as venues for various administrative, economic, social and cultural activities. The cooperative centre has a specific architectural typology, whose purpose is to create an indoor public space that usually serves as a central space in the community, a place of social interac...
_MURLDELAFUENTE
http://www.e-architect.co.uk/
--------------------------------
CÓMO INSTALAR BALDOSA