Wine Bar Reisten, Pavlov Moravia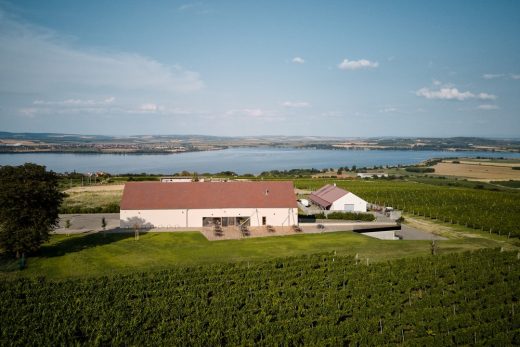 Moravian Wine Bar Reisten, Pavlov, Czech Republic Real Estate, Czech Commercial Property Photos, New Architecture
Moravian Wine Bar Reisten in Pavlov
12 Oct 2021
Architect: ORA
Location: Zahradní 288, 692 01 Pavlov, Moravia, Czech Republic

Moravian Wine Bar Reisten
The new Wine Bar Reisten is located in the former winery premises. ORA carved large openings situated opposite one another to open up the views. The architects added an all-glass, oversized bay window where one can relax with a glass in hand. They cleaned all the surfaces, revealing their rawness. The delicate furnishings are bespoke, woven seamlessly into the structure.

However, the best place to sit is the large oak terrace, screened by a shade sail. The terrace opens up onto a nearby vineyard and provides a view of the sunset over D?vín. Building

The winery building was designed in 2010 by the architectural studio Burian-K?ivinka. However, only a fragment of the winery was built. The result, unfortunately, differs significantly from the project. The new owner wanted to reclaim the winery building and open it to the public. The first step towards revitalisation is the new wine bar in the space of the former warehouse.

Openings

The space needed brightening and connecting to the exterior. We cut extensive openings located opposite one another. The viewer can thus see the house from the entrance. From the wine bar area, the viewer is offered two kinds of views – the close sight of the vineyard and the d...
_MURLDELAFUENTE
http://www.e-architect.co.uk/
--------------------------------
London's Architectural Association School launches specialist robotics course