Wooden Roof by Tsuruta Architects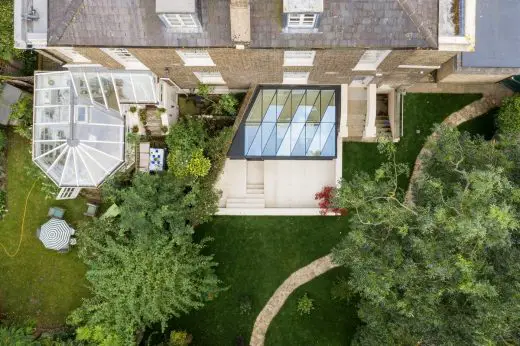 Wooden Roof London House Renovation, Tsuruta Architects, English Property, Architecture Photos
Wooden Roof by Tsuruta Architects, London
14 Sep 2021
Design: Tsuruta Architects
Grade II-listed house conservatory extension
Location: London, England, UK
Stephen Lawrence Prize 2021 Shortlisted

photo © Ståle Eriksen
Wooden Roof London
Jury Report
The simplicity of adding a conservatory to a house provides architects with an incredible range of expressive opportunities. Wooden Roof takes this opportunity to a new level of sophistication and elegance. Clear constraints imposed by its grade II listing ? limits on the overall height and the need to remain subservient to the main building ? has prompted a bespoke contemporary solution that utilises digital manufacturing techniques. The result is a uniquely crafted timber structure that draws on valuable lessons from traditional Japanese joinery.
photo © Ståle Eriksen
The judges were without exception hugely impressed with the rigour with which the project has been carried out. The precision of the faceted glazed roof extends to the way the timber ring beam is jointed and even to how the perimeter gutter is detailed to provide a genuinely considered elevation to the upper rooms of the house.

photo © Ståle Eriksen
The design emphasizes timber?s expressive qualities by putting the language of carpentry at the heart of the project. It exemplifies how timber, which is intrinsically sustainable, can and should become the structural m...
_MURLDELAFUENTE
http://www.e-architect.co.uk/
--------------------------------
Denise Schindler to become world's first Paralympic cyclist to use 3D-printed prosthesis