Xcelirate Barcelona Offices Design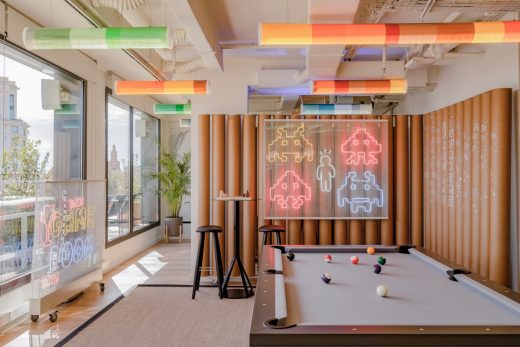 Xcelirate Barcelona Offices , Architecture, Lagranja Design, Catalan Accommodation Building Photos
New Xcelirate Barcelona Offices Design
21 July 2021
Design: Lagranja Design
Address: Barcelona, Catalunya, north east Spain
All Fun and Some Work ? Xcelirate in Barcelona by Lagranja Design

Popular culture, a dash of irony and a mega-dose of fun underpin new offices for Xcelirate in Barcelona.
Xcelirate Barcelona Offices Building
Xcelirate is an expanding digital entertainment content provider with a global reach. Many of its staff work from home in far-flung locations. In a step to take the company forward and attract talented young programmers, the company decided to open a hub in Barcelona ? a city renowned for its digital start-up culture and fantastic lifestyle. Xcelirate rented a top-floor office with a terrace on Passeig de Gràcia ? Barcelona?s most prestigious avenue. Although the space was already fitted out as a functioning office, Xcelirate?s directors wanted something that expressed their company?s values. They wanted to inspire their young team and provide a unique, fun environment that would bring out their professional best.

Their vision for a workspace that was dynamic, fluid and just a little irreverent. The décor had to encourage people to connect, innovate and imagine, and let them be creative whether they were sitting at a desk or on the terrace. The order of priorities as A- Games; B- Fun; and then C-Work
So they contacted Lagranja Design.

?This project...
_MURLDELAFUENTE
http://www.e-architect.co.uk/
--------------------------------
Mercedes-Benz's latest concept car takes its design cues from art deco